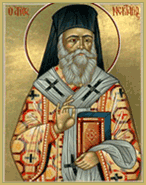 PATRIARCHATE OF CONSTANTINOPLE ARCHDIOCESE OF BELGIUM AND EXARCHATE OF THE NETHERLANDS AND LUXEMBURG

ORTHODOX PARISH OF SAINT NEKTARIOS
EINDHOVEN
HOW TO REACH US
Contact
Address:
Hoogstraat 301a
5654NB Eindhoven
IBAN:
NL60 INGB 0005914873
ORTHODOXE KERK EINDHOVEN
Clergy
COMING BY CAR FROM THE SOUTH
E-34 -A67 Antwerpen - Eindhoven - Venlo. Take exit 32 A2 - Airport - Tilburg, take first exit 32,after about 1 km take below exit on the right, direction of Veldhoven South. Count the number of stop lights 5 in total, beginning with the first one being below at the exit. Then after the 5th light go right and after 20 meters take a left, this is the Blaarthemseweg. Follow this way till it becomes Hoogstraat. About 50 meters before the great church named Holy Lambertuskerk is our lane to our Parish. The entrance is on the right of this building.
COMING BY CAR FROM THE NORTH
Utrecht-Rotterdam-Amsterdam, etc.. Take for Eindhoven the highway A2 in the direction of Maastricht/Antwepen, take exit 32 Veldhoven Zuid en Ziekenhuis. Take a right below in the direction of Eindhoven, after 2 to 3 km on the left side on the median, you will see a metal art structure, after this you will come to a stop light, turn right and after 20 meters, go left and afer about 500m you will be on Hoogstraat. At 301a is our church.
COMING FROM THE TRAIN STATION EINDHOVEN ON FOOT
It is about 1/2 hour walk. Begin with coming out the front of the station, exit on the Centrum. Go to the right to the Septemberplein (Magazijn C & A and Bijenkorf). Go left at the end of the (plein) on the Emmasingel street. (You will see the Building of the "De Witte Dame") on your right side. Then you come by a high rise apartment house after 30 meters go left. At the stoplight cross over and take the Kleine Bergstraat (there are lots of stores here). After the 2nd stoplight this street becomes Hoogstraat. Follow this till you see a big Catholic Church. Take after 30 meters a left and walk to 301a. Our parish is on the right side of the buidling.
COMING FORM THE STATION EINDHOVEN ON A PUBLIC BUS
At the bus station take bus 19 to Maxima Ziekenhuis en Veldhoven. Step out by the Sibelius bus stop. Walk a few meters back and take on the left the Tartinistraat this comes out at Frans Lehaarplein. Walk thru this (Plein) to Hoogstraat and take a right there. After 100 meters take on the right the entrance to the monastery // klooster 301a and on the right side of this building is the entrance to our Orthodox St. Nektarios Church.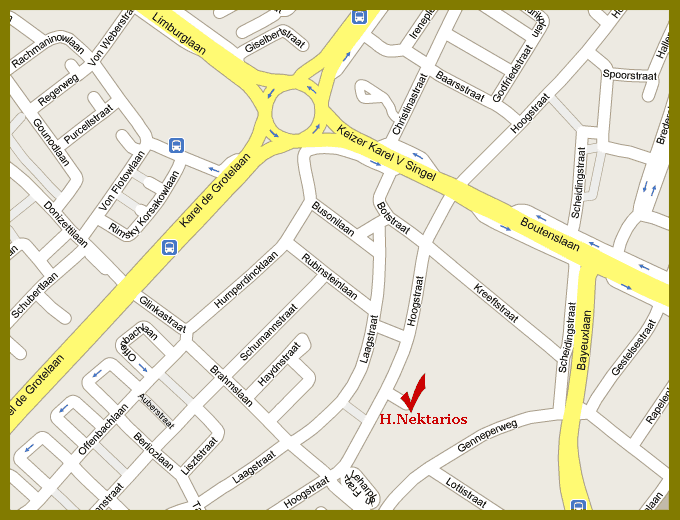 ---